Looking for a new home exercise bike to kickstart your 2020 fitness journey or recharge your current exercise routine? With so many variations and brands on the market, knowing where or how to start your search can be pretty overwhelming. We're here to help! Below you'll find our roundup of the best home exercise bikes for 2020. We've organized the list into handy categories so you can zoom in the type of exercise bike you are looking for. This way, you can find the model that suits your budget, body type, fitness goals, and workout space.
Best Home Bike for Most People: NordicTrack Commercial S22i
Best Budget Bike for Peloton Classes: Schwinn IC4
Best Recumbent Bike: NordicTrack Commercial VR25
Best Fully Featured Budget Bike: Echelon EX3
Best Upright Exercise Bike: Sole B94
Best Full Body Workout Bike: Assault Airbike
See Best Price

Most indoor bike manufacturers have already jumped on the Peloton revolution, which aims to bring spin-class energy into the comfort of your own home. NordicTrack is no exception. The NordicTrack Commercial S22i has a range of impressive selling points, from its iFit-enabled 22" HD touchscreen to its -10 to +20% power incline. Its other stellar features include: multi-position handlebars; quiet magnetic resistance with 22 levels; pedals with cages; and an aux music port compatible speaker system. It's also shipped with a pair of three-pound dumbbells for you to work on your upper body strength, and provides storage underneath the bike's console so your weights are always within easy reach.
Immersive workout experiences are the name of the game here. Although the selection of iFit spin classes is currently smaller than what Peloton offers, iFit allows you to experience a diverse workout variety including Google Maps rides and workouts that branch out of the cycling arena, from yoga to kickboxing to HIIT training. The S22i's advanced electronics push it into a higher price bracket that some shoppers may be put off by. That said, you get what you pay for here. We've voted the NordicTrack Commercial S22i as our best home bike for most people for many reasons, including its customizability (such as its multi-position handlebars and vertical/horizontal seat adjustment), impressive features (such as its 22" touchscreen and incline settings), and compact size (its steel frame is just 140 L x 55 W x 146H cm). Its 22 resistance settings and power incline/decline also mean this bike can offer the right challenge to just about anyone. These pros make it suitable for any home gym and typical trainee looking to bring the high-energy entertainment of a spin bike class into their home.
See our detailed review of the NordicTrack Commercial S22i.
Best Budget Bike for Peloton Classes: Schwinn IC4
Looking for the Peloton experience on a budget? Queue, the Schwinn IC4. At just $799, the Schwinn IC4 offers a very impressive combination of interactive training connectivity, performance features, and upper-body workouts. Much like the Peloton, interactive training is the key focus for the IC4. You just have to bring your own tablet or smartphone to the IC4 to train interactively (which helps to keep costs down). Its Bluetooth connectivity allows you to stream interactive spinning classes from a wide range of fitness apps including Peloton. You can also try other fitness apps like Zwift, Rouvy and Explore The World.
Just keep in mind that data connectivity varies depending on the app you are using. When using the IC4 with the Peloton (digital) app, you can only see RPM within the app. This is a sacrifice we're willing to make for the vast difference in price between the bikes. What's more, where Peloton riders have to pay $39/month for the full membership (which syncs with their Peloton equipment), you can use the IC4 with Peloton's Digital Membership which costs just $12.99/month after the free trial. The Schwinn IC4's warranty far outshines the Peloton's warranty too. All in all, the IC4 is a versatile indoor cycle that is guaranteed to keep you entertained and motivated for years to come.
See our detailed review of the Schwinn IC4 Indoor Cycling Bike.
The NordicTrack Commercial VR25 is the brand's top recumbent bike for home gyms. From its supportive, roomy seat to its iFit-enabled 7" smart HD touchscreen, the bike offers some pretty impressive specs and features for its $1,299 sticker price.
As for workout programming, the NordicTrack Commercial VR25 allows you to enjoy both 35 on-board workouts and a limitless variety of programs via iFit (of which you get a free 1-year membership to with purchase). Add your own device to the tablet holder for more entertainment options, or stream your music through the VR25's set of Bluetooth speakers.
The recumbent frame and comfortable lumbar-supporting seat allows you to cruise through the Commercial VR25's 26 digital resistance levels in comfort. In fact, this type of bike allows you to recline back so it feels like you're working out from the comfort of a chair. This along with the extra-wide, ergonomic pedals make for a comfortable and durable ride.
The VR25's resistance options provide a good range of challenge for beginners and mid-level athletes; it's perfect for those who want to lose weight and keep fit at home in comfort.
See our detailed review of the NordicTrack Commercial VR25.
Best Fully Featured Budget Bike: Echelon EX3
At just north of a thousand bucks ($1,039.98 to be exact), the Echelon EX3 bike is a steal for anyone who wants the Peloton experience on a budget.
If you're looking for a durable bike, the Echelon EX3 Max won't disappoint. It's built to last even throughout your most intense spinning workouts, featuring: a strong steel frame; a heavy flywheel just under 30 lbs.; and sturdy aluminum pedals which allow for regular shoes or clip-in cycling shoes for the more serious cyclist. Expect a smooth, quiet ride through the EX3's 32 levels of resistance. Find your perfect fit before you ride by amending the bike's adjustable seat and handlebars.
What makes this bike budget-friendly? Echelon is bringing more affordable spin bike models to the market generally, rivalling bikes like the Peloton. It keeps costs down as there's no console included with the bike. Instead, you can use your own tech, and mount your tablet in front of you to follow spin classes.
Interactive training via the Echelon Fit app is one of the EX3's major selling points. Subscription to the app gives you have access to a huge variety of motivating workouts, including both on-demand and live classes. It's like having your own personal trainer in your living room, keeping you motivated and monitoring your stats all at once.
The Echelon EX3 is a versatile spin bike that's great for any fitness level, home gym, and budget. It's worth noting that without the app, functionality is very limited, so it's best to factor this into the price when you get to the checkout. However, if you compare this to boutique gym classes or expensive gym memberships, bringing this machine into your home will most likely be more cost effective in the long term.
See our detailed review of the Echelon EX3.
Best Upright Exercise Bike: Sole B94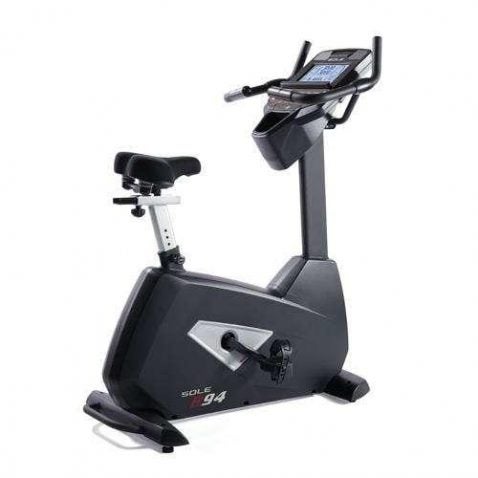 As the lowest priced upright exercise bike from Sole Fitness, the Sole B94 is an all-round steal at $799.99. It's ideal for beginners and mid-level trainees, but probably not the most experienced cyclists out there.
Some of its star features include a durable steel frame with a weight capacity of 300 lbs., a 20-pound flywheel, and a 9″ LCD with 10 workout programs. Expect a comfortable, "whisper quiet" ride through the B94's 20 challenge levels as well as a custom fit with the bike's adjustable gel-cushioned seat.
What's more, as is usually the case with Sole, the B94 includes a stellar warranty, especially for a bike in its price range. It includes a lifetime guarantee on the frame, three years on electronics and parts, and a year of in-home labor.
If you're looking for a stationary upright bike on a budget, the Sole B94 could be the bike for you. Overall, it will offer great value to beginners and mid-level trainers who are working on weight loss, body toning or rehab.
See our detailed review of the Sole B94.
We're not surprised the Assault AirBike is an ongoing bestseller. It offers a variety of impressive features and specs for its low $999 price tag. It's a versatile bike that's ideal for basically all ability levels by combining moving arm bars with ultra-smooth pedaling against fan air resistance. The Assault AirBike is a total body trainer, allowing users to tone their arms, chest, back and shoulders while torching calories.
Some of its star features include: a sturdy build that can handle a high maximum user weight capacity of 350 pounds; unlimited resistance delivered by its unique air resistance system which naturally responds to your workout intensity; eight preset workout programs; wireless heart rate monitoring compatibility; and a comfortable, adjustable saddle to fit a wide range of heights.
Overall, the Assault Airbike is an absolute bargain for low-impact, total body training, and is our recommendation for the best full body workout bike for 2020. It can handle any workout you throw at it, can cater for a wide range of heights, and users can't outgrow the bike's resistance. Whatever your fitness level, the versatile Assault Fitness AirBike will give you what you need.
See our detailed review of the Assault Airbike.
Want to browse some other models or learn more about how to find the right exercise bike to suit your workout needs and budget? Read our handy exercise bike Buying Guide to get started. The you'll be ready to zoom in on the exact type of bike you're looking for with the help of our expert exercise bike reviews in each category, from upright stationary bikes to recumbent stationary models to indoor cycle trainers.